True Story Theater, based in Arlington, presents issues to the public by involving the audience through "playback" -- drawing stories from them and having actors present the stories that arise.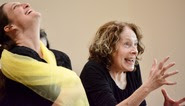 Thank you for your support
We send our deep gratitude to the 80 fans who together donated $4,000 to True Story Theater via our online fund-raising performance in October. The event was an outpouring of love. We still feel energized.
Attendees: we hope you were energized, too, and that you feel happy knowing your money is bringing empathy, compassion and creativity into the world.
We are raising funds for a series of three shows in 2023 that will share the experiences of people with disabilities and the power of disability activism.
Feel moved to add to your support?
Click here
,
or contact
christopher [at] truestorytheater [.org]
to discuss grant opportunities or more significant gifts.
---
What is personal Playback?
An online hour of Playback's deep listening just for you. You get to be "teller" for the whole time. If you wish, you can invite 1-2 friends or family members to join you, either as witnesses or to have their experience reflected. Usually 2-4 performers take part. You can request certain cast members.
---
Use personal Playback as a gift for yourself
Are you going through a life transition: beginning or ending a relationship or a job, changing homes, facing health challenges, celebrating a success, having a significant birthday? Experience the power of Playback Theatre's embodied empathy to support your own insight and growth. (If you want, you can also step in and perform some in your own stories.)
---
Use personal Playback as a gift for others
Send a unique love message to a friend, relative, mentor or sweetheart. You will have a video of you speaking about your relationship and then the performers embodying your words. Send the video to your loved one as a sweet surprise.
If you prefer, you can invite them to be present for the show, either to listen or to talk about your relationship. You both will have the recording to keep forever.
---
Interested?
* Email
anne [at] truestorytheater [.org
]
Include your phone number and a good time to talk.
* Together, we'll figure out a theme date, time, and what donation feels right. For a personal Playback experience, we request a donation of $100 or more to True Story Theater.
---
Creative play & meaningful connection
Drop-in Playback Theatre classes for all
On Zoom
Mondays with Teresa, 11am to 12:30pm ET
Wednesdays with Jason, 6pm to 7:30pm ET
Thursdays at with Jason, 11am to 12:30pm ET
YOUR VIEW: Opinions: Giving, poetry, thanks, water, Clark, farewells, Alewife, Mugar
Your Businesses
UPDATED Nov. 27: Image of snowmen, polar bears, snowflakes and more are expected to brighten…
UPDATED Nov. 19: 13Forest Gallery, which reopened at 167A Mass. Ave. on May 21 after having been…
UPDATED Oct. 19: The second issue of the Arlington Magazine & Community Guide has been released as…
Your People
One small corner of the world's heritage of tunes and dance, thousands of miles away from where they began, is being kept fully alive by two longtime Arlington residents. Preserving traditions underlying Scottish fiddle music and Highland dance are Barbara and Robert McOwen. INSIDE ARLINGTON:Among…
Marie Krepelka was awarded the Paul Harris Award by Arlington's Rotary Club in 2018. / Photo by Ashley Maher UPDATED Nov. 1: Two days after Arlington's Select Board honored its longtime administrator, Marie A. (Spelman) Krepelka has died. At the board's Oct. 24 meeting, members and town staff…
Housing Authority
Major increases sought for federal FSS grant. Nine months after a ghastly fire at Chestnut Manor…
Report released six months after records request. UPDATED July 28: The Chestnut Manor fire…
FACEBOOK BOX: To see all images, click the PHOTOS link just below