Media partner


Your View (site blog, not mine personally)
Your View is the place for opinion at YourArlington.com. It is the site's only blog. Please submit your opinions to be considered for publication on this site. The best opinions are those supported by facts. You cannot expect to be published if your views lack factual support or if you make personal attacks. For your views to be published, your full, real name is required.
21 minutes reading time
(4249 words)
Alewife Brook sewage campaign: Key meeting held
Worst Offender: Somerville's SOM01A combined sewer overflow.
UPDATED June 29: Precinct 13 Town Meeting member Kristin Anderson, who is monitoring the combined sewer overflows into the Alewife Brook, provided this update.
At 6 p.m. Wednesday, June 29, Cambridge, Somerville and the Massachusetts Water Resources Authority (MWRA) held their first public meeting via Zoom to discuss Combined Sewer Overflows (CSOs).
The legal limit for sewage discharge in the Alewife Brook is 7.29 million gallons. In 2021, 51 million gallons of untreated sewage pollution was dumped in the Alewife Brook. The sewage pollution has been getting worse, not better.
Save the Alewife needs you to participate in this meeting. Let the MWRA, Cambridge, and Somerville know it is NOT OK to use the Alewife Brook as an open sewer.
Please ask a friend to come to this meeting.
This is the first public meeting to discuss the creation of a new Long Term CSO Control Plan (LTCP) to keep untreated sewage out of the Alewife Brook, the Mystic River and the Charles River.
Support from EPA
In response the new CSO control plan "draft scopes," the Environmental Protection Agency has sent letters to Mass. Water Resources Authority, Somerville and Cambridge, addressing all concerns from Save the Alewife Brook, which are described in its "Alewife Brook Path to Zero Sewage Pollution."
A draft scope is framework for the planning of the new Alewife Brook CSO control plan to eliminate sewage pollution. Somerville, Cambridge and the EPA have until Dec. 31, 2023, to finish collaborating on a plan to make improvements to sewage pollution in the Alewife Brook.
The draft scope documents are available in Save the Alewife's document library here >>
In the guidance letters, the EPA asked Somerville, Cambridge and MWRA for:
1. Future climate change impacts to be incorporated into new sewer infrastructure planning and performance models.
2. An improvement in water quality.
3. Real public participation in the early stages of planning and throughout.
4. Flood control measures.
5. Significant gray and green infrastructure work on DCR property, including at Dilboy Park!
6. Sewer infrastructure upgrades.
7. A tiered rate structure to pay for the CSO work, so that the burden doesn't fall on lower income residents who cannot afford it.
You can download and read the EPA's guidance letters here:
Somerville, Cambridge, MWRA
The EPA's response makes clear that it is following federal policy in response to our input. They are really listening.
This was achieved through Save the Alewife Brook's working partnership with the Mystic River Watershed Association and the Charles River Watershed Association.
But, most importantly, this was achieved because of your interest and support.
Support from Ellen Mass.
Ellen Mass of Cambridge, former president, Friends of Alewife Reservation, wrote this letter of support.
Dear water protectors to Save the Alewife Brook,
After 20 years, your water quality campaign for watershed conservation is a great boon to the residents of the Alewife Upper Basin in Belmont, Arlington, Cambridge, Somerville and to the downstream Medford and Chelsea Creek communities, and for the protection of our Atlantic Ocean coast line as well.
We started our Friends of Alewife Reservation in 2000 to bring attention to watershed matters. Now 20 years later the group is with Green Cambridge. At that time, we did not have the scientific means to advocate for the area in the way you have now enlightened us in measuring the vast amount of pollution increase coming from fully discharging CSOs, or those that were not separated in 2013 by Cambridge. It is also true that today, there is the increased flow of dreaded pathogens coming through our towns and cities on the Mystic River watershed especially in the Alewife subwatershed of Belmont, Arlington, Cambridge and Somerville where, you point out in your reports and news briefs, much of Little River and Alewife Brook pollution comes from.
By galvanizing caring community members to note the great open space and benefits and dangers posed by the Alewife waters, and our green corridor to Boston Harbor and the ocean, you show foresight of our New England climate change future. By providing proper mitigation demands which are part of the Boston Reports and city agreements regarding adaptation measures to prevent the severity of climate change flooding. Greening the corridor would do that as will cleaning out the river and brook toxins, and provide habitat for our well-established animals, birds, insects.
The noted environmental firm Horsley and Witten provided my organization with an important Upper Basin report and spoke to the State House regarding the importance of the Belmont/Cambridge Forest which was removed for a developer. I hope you will sustain your outreach and ally with others who care about the urban wild, river, brook, ponds and increasing climate change, noting that the MBTA Alewife metropolitan transit artery is extremely low in water rise elevation, and the area is predicted to flood in 2050 by future climate specialists.
Well-established hazard warning signs in the River and Brook by Cambridge and Somerville may assist in alerting the public to the dangers in the water quality. I hope you will have better results than my then organization had in gaining municipal support and extracting the needed funds from federal, state and municipal sources. Cleaning up this section of the watershed will continue to bring safe recreational, educational benefits, and protect our health and diminishing species in this densely populated region so rich in floodplain. Wishing you the best.
Cleanup, 'ghost tour' held on Earth Day
On Saturday, April 23, Save the Alewife Brook volunteers gathered along the Alewife Greenway for a trash pickup, CSO tour and ended the event at the "ghost fish" art installation at Mass. Ave. and Route 16.
Save the Alewife Brook thanks the two dozen people from Cambridge, Arlington, Somerville, Medford, and Belmont who came out for the Alewife Earth Day Cleanup and CSO tour.
MWRA's terrible Combined Sewer Outfall
We started with a walk and discussion of the MWRA's Alewife CSO, MWR003, which discharged over 20 million gallons of sewage from Belmont and combined sewage from Cambridge. You can play the video below to hear this one minute presentation.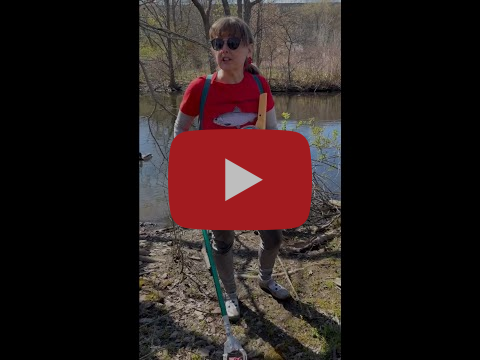 Documentary film footage by J. Johnson from Forced Exposure Film
We hauled a lot of trash! We even found a busted toilet (appropriate, haha) and the rusty hood from a car, a shopping cart, busted furniture, and lots of plastic bottles.
Gwen Speeth and David Stoff show off the huge pile of trash from the clean-up.
The best part of the CSO tour came at the end, when we got to David Stoff's Ghost Fish art installation at Cambridge's Historical CSO known as CAM401B. There is one Ghost Fish for every 2 million gallons of sewage that was discharged into the brook last year: 52 million gallons! That's a big school of fish!
David Stoff's "ghost fish" art installation.
Many thanks to all the participants and donors: Shone Gibson, Joel Snider, Elaine Lyte, Candace Young, Loren Bernardi, Suzanne McLeod, Lida Junghans, Cythina Stillinger, Ann Stewart, Anne Thompson, Philip Thompson, Diane Martin, Ann McDonald, Michael Quinn, Sharon Taylor, Bode Taylor, Cole Taylor, Kate Schull, Ed de Moel, Jean Devine, Jim Eggleston, David Stoff, Jimmy Johnson, Gwen Speeth, Kristin Anderson, & Darbi Crash. Thanks also to George Laite from the East Arlington Good Neighbor Committee, for donating trash pickers and trash bags.
Thanks to everyone who was there
April 4 update
Last week, the Charles River Watershed Association, the Mystic River Watershed Association and Save the Alewife Brook had meetings with the federal Environmental Protection Agency and the Massachusetts Department of Environmental Protection to discuss our recent letter to the regulators. This comes at a time when new plans are coming due to eliminate combined sewer overflow (CSO) sewage pollution.
We came away from the meeting with the EPA and their awesome new Regional Director for New England, David Cash, with a sense that the agency is compassionate toward the Environmental Justice populations in the Alewife flood plain. The EPA and DEP seem sincerely concerned about the hazardous health risks that area neighbors face, as the heavily polluted and flood-prone Alewife Brook is so densely settled.
Keep in mind that some of the folks from Save the Alewife Brook worked on the CSO problem 20 years ago. Back then, we wrote letters, letting the regulators know about the illnesses we experienced after Alewife flooding brought sewage-contaminated flood water into our homes. And no one was talking about Environmental Justice back then. Save the Alewife Brook is happy to report that the regulatory agencies indicated that they are concerned about the health of the people and want to protect us. They care about the families who live along the Alewife Brook. We are so grateful to have been met with open ears and warmth from the EPA and MassDEP.
We also had a meeting with MWRA on Thursday of last week. There were many there from MWRA as well as from our advocacy groups. There was an open discussion with a frank exchange of views. However, a big disappointment was that MWRA did not want to update their modeling to reflect future climate change impacts.
New Draft Scopes for CSO Elimination Work
Friday, April 1st, 2022 was a big day in the Alewife CSOs regulatory timeline. It was the day that Somerville, Cambridge, and the MWRA were required to submit draft scopes for their new Long Term CSO Control Plans to the federal Environmental Protection Agency and the Massachusetts Department of Environmental Protection.
You can download the scopes here:
Massachusetts Water Resources Authority
Somerville
Cambridge
The initial takeaway from the MWRA's scope is that they do not want to consider Climate Change in their plan!
MWRA's climate-change denial
We are very concerned about the climate change denial in the MWRA draft scope proposal.
Climate Change threatens to exacerbate the problems in the Alewife, with wetter rain seasons, more frequent and more severe storms, and sea level rise, all of which lead to more flooding.
But flooding is not the only problem that Climate Change will present. Climate Change also makes the sewage discharge problem exponentially worse. The volume of discharge is exponentially greater with increase in rainfall. This is why climate change effects must be included in MWRA's modeling and CSO Plan.
What is the MWRA's "Typical Year Model?"
There is a legal, regulatory requirement that the MWRA assess the performance of the CSOs in their system, and report back to the regulators. This allows the court and the government to ensure that their obligations to make improvements are being met.
The benchmark for this modeling is a Typical Year, which represents rainfall for average conditions. The Typical Year that they are now using is based on historical data that goes back as far as 1949! To truly represent current and future conditions, the model must be forward-looking and take into account the effects of climate change. The Typical Year approach also does not capture the fact that, when rainfall is above average, CSO discharges exceed in frequency and volume the limits set for a Typical Year, as discussed below.
The MWRA claims that they have reduced the amount of sewage pollution in their system by 85%, as part of the Boston Harbor Cleanup. This may be true for the Boston Harbor and its East Boston and South Boston beaches and the Boston waterfront. Truly, the MWRA deserves an enormous amount of credit for the miraculous, magical work they've done improving Boston Harbor water quality with use of the Deer Island Treatment Plant.
But a review of the actual volumes of combined sewage discharge in the Alewife shows that, in the last four years, the system has not met the Long Term Control Plan goals. And, frighteningly, the volume of discharge is increasing exponentially since 2016, and is exponentially worse with increase in rainfall.
Here is a chart from the MWRA that shows the actual annual amounts of combined sewage discharge (the gray bars), the aspirational modeled amounts of discharge (navy blue bars), and the required goal (the straight horizontal orange line). Up top, you can see the actual annual rainfall (light blue bars):
MWRA's 'Calendar Year' metered [actual] data (gray bars) vs. modeled [hypothetical] data (navy blue bars), with LTCP goal (horizontal red line), actual rainfall (light blue bars), and modeled rainfall (horizontal yellow line).
Note that:
* In the last four years, Alewife CSOs failed to meet the LTCP goal, except in drought year 2020.
* There is an exponential upward trend of actual CSO discharge volume since 2016.
The MWRA has been employing a model that uses historical storm data from before 1993, going backwards over 4 decades to 1949! The actual volumes of sewage discharge, in the gray bars, show that, since the last CSO improvements were completed in 2015, we are experiencing an exponential increase in sewage discharges. The hypothetical model, in the navy blue bars, obfuscates that alarming fact, by suggesting that the Alewife CSOs are performing well and generally below the LTCP goal. The 50 Million Gallons volume of sewage discharge in 2021 is the same amount of sewage discharge that the Alewife was receiving back in the 1990s, before any improvements were made!
If the MWRA does not acknowledge Climate Change in its new plan, we are likely to see a much worse situation in the future.
This is why the EPA and DEP must require the MWRA to adopt a forward-looking model that includes Climate Change projections and also properly considers large storm events.
"The Typical Year is a series of storms (93 storms with total precipitation of 46.8 inches) developed by the Authority in 1992 from a 40-year rainfall record (1949-1987 plus 1992) and approved by EPA and DEP that has served as the basis for development, recommendation and approval of the Authority's LTCP, establishment of the Court-mandated levels of control, and assessment of system performance."
P. 3, Footnote 1 from MWRA BIANNUAL COMPLIANCE AND PROGRESS REPORT AS OF JUNE 14, 2019
Long history of pollution
Published March 27, 2022: In the historical Annual Report of the State Board of Health, published 115 years ago, in 1907, it was determined that the Alewife Brook was the most polluted stream in the Mystic River watershed. It advised the city of Cambridge to implement a solution of: "separating the sewage from the storm water in these districts, discharging the sewage into the metropolitan sewer, closing the outfalls, and conducting the storm water into the natural water courses."
Fast-forward to 2022. Despite passage of the Clean Water Act four decades ago, the problem of sewage pollution continues to plague area residents: In 2021, more than 50 million gallons of combined sewage was discharged into the Alewife Brook. Somerville's Alewife CSO is not in compliance with the law. And, if we analyzed and used the metered CSO discharge volumes in the Alewife Brook over the last four years, in order to assess performance, we'd determine nearly all of the Alewife CSOs are also not in compliance with the law.
The 1907 State Board of Health's advice to separate all combined sewers and end sewage pollution has been ignored now for 115 years.
At the March 4, Massachusetts Water Resources Authority's (MWRA) Wastewater Advisory Committee meeting, core activists from Save the Alewife Brook learned more about Belmont's sewage.
In 2015, the MWRA constructed a new Combined Sewer Outfall (CSO) known as MWR003 in the Little River/Alewife Brook. And they did this as part of the 2006 Long Term CSO Control Plan to eliminate CSOs.
The MWRA tied sewer trunks from Cambridge and Belmont into this new CSO to provide "hydraulic relief" for their failing and overcapacitated system downstream. So now, when the MWRA's Alewife sewage system is inundated with rain, Cambridge's and Belmont's sewage gets dumped into the Little River / Alewife Brook. In 2021, the MWRA's single Alewife CSO dumped 20-million gallons of sewage pollution into the Little River / Alewife Brook from that one CSO.
We think that as part of the original Long Term CSO Control Plan, this "solution" to the CSO problem was no solution at all. It wasn't even a band-aid. The MWRA has made matters worse by not fixing the systemic problem of their failing sewage system throughout the Alewife.
Here's a link to Cambridge's online viewer which you can use to see the sewer lines into the MWRA's CSO known as MWR003.
Here is the group's report from the Mass. Water Resources Authority (MWRA) meeting of Thursday, Feb. 17:
The public briefing was held to discuss the MWRA's final CSO performance assessment report. This was based on their four-year CSO assessment, which looked at their system's CSO performance from 2018 through 2021. This briefing was a requirement of the federal Boston Harbor clean-up court case.
There were 90 people logged in to this virtual meeting and almost all of them were community members who were interested in the Alewife Brook CSOs. The briefing began with PowerPoint presentation, where the MWRA gave an overview of their CSO program work and the results to date.
THE BIGGEST BOMBSHELLS?
Somerville's Alewife CSO is out of compliance.
The MWRA has determined that Somerville's Alewife CSO is not in regulatory compliance. This means that Somerville has failed even to live up to the terms and requirements of their permit to pollute the Alewife Brook. They are discharging far too much sewage and too frequently!
Based on the MWRA's modeling results using a "Typical Year" approach, the model shows that Somerville's CSO (SOM001A) is discharging 4.47 million gallons of sewage water compared to the regulatory goal of 1.67 million gallons. Note that the actual measured discharges for Somerville's Alewife CSO were 18 million gallons of sewage water in 2021.
Somerville needs to separate their combined sewer system in Davis Square, eliminate that terrible CSO, and add green and grey infrastructure to clean their stormwater and reduce flooding. This work can be done on state DCR land all along the Alewife, including at Dilboy Park.
The MWRA cannot meet the area's sewer needs when we have big rainstorms.
After the MWRA's PowerPoint presentation, the public was allowed to ask questions and make comments. Arlington Town Meeting Member Patricia Worden said that she used to be a Cambridge resident and that she believes Cambridge can afford to close their Alewife CSOs. Worden also asked whether the sewer system can handle more sewer hookups required by future development. Then Gwen Speeth from North Cambridge asked the MWRA why they don't take care of their own Alewife Brook CSO, MWR003. Speeth pointed out that the MWRA's Alewife CSO discharged over 20 million gallons of sewage water in 2021.
In response, a consultant spokesperson for the MWRA, Don Walker from AECOM replied,"The MWRA system is limited by downstream capacity. Under very large storm events, the capacity of the Alewife Brook Pump Station, which is downstream of [MWR003] is reaching capacity – very large facility, has 90 MGD capacity. That then discharges into sewers that are conveying flow further downstream and going to the Chelsea Creek Headworks, that then reaches capacity. And there are events when the capacity of our Deer Island treatment plant, 1.2 / 1.3 billion gallons per day is reached. So there are limits to what the MWRA can push through the system."
What Mr. Walker is stating here is that the MWRA's sewer system through the Alewife is not capable of handling the area's current needs during some rain storms. This is because stormwater in the combined systems is overloading the MWRA sanitary sewer system.
We note that separating the combined sewer systems will greatly reduce stormwater flow into the MWRA sanitary system and thus address the capacity issue.
What does this mean for the future? What is the solution?
Climate Change projections and current data indicates that if the CSOs are not closed, the sewage pollution problem will snowball, and become exponentially worse. Therefore, the combined sewer systems which mix sanitary sewage (what you flush) with street water in West Somerville and North Cambridge must be separated. They must stop sending their street water (AKA stormwater) to the Deer Island sewage treatment facility. This will reduce the overloaded capacity on the system. And the MWRA's Alewife CSO, which dumped 20 million gallons of sewage water in the Alewife Brook in 2021, must be replaced with a pumping station.
Thank you, Alewife Supporters!
Save the Alewife Brook would like to thank all of the supporters who attended the MWRA's Final CSO report briefing, including:
Adam Chapdelaine, Amy Schofield, Barbara Moran, Ben Beck, Beth Kudaruskas, Beth Melofchik, Betsy Davis, Carolyn Francisco-Murphy, Carolyn M Fiore, Charlie Jewell, Chris Goodwin, Christian Klein, Clare Nosowitz, Dan Codiga, David Wu, Denise Ellis-Hibbett, Don Seltzer, Douglas Heim, Eugene Benson, Eric Helmuth, Eva Murray, Fang Yu, Gwen Speeth, Jane Carey, Jean Devine, Jianjun Wang, Jill Carr, Jim Barsati, Jimmy Johnson, John Reinhardt, John Salo, John Tortelli, Julia Hopkins, Kane Larin, Karen Graham, Kelly Morton, Lealdon Langley, Leon Cantor, Lucner Charlestra, Maret Smolow, Mary Adelstein, Mary Kay, Michael Fager, Michele Barden, Michele Gillen, Mike Altieri, Minka vanBeuzedom, Nancy Bloom, Pallavi Mande, Pam Heidell, Patricia Worden, Patrick Herron, Peg McAdam, Rachel Roth, Rich Raiche, Sally Carroll, Shavaun Callahan, Stephen Perkins, Steve Cullen, Susan Stamps, Susy King, Todd Borci, Tricia Carney, Wynelle Evens, Yuyou Chen, and others we may have missed.
The briefing is to discuss the final report of the agency's combined sewer outfall (CSO) project. This meeting is a final milestone in the completion of the several decades' long project to clean up Boston Harbor.
As part of the clean-up effort, half of the CSOs in the Alewife Brook were closed, but six Alewife CSOs remain.
In 2021, those CSOs discharged 50 million gallons of sewage water into the Alewife Brook -- the same volume discharged in 1997, before any work was done.
This is a serious health problem because the Alewife area is naturally flood-prone. Known as the Great Swamp, the Alewife has been flooding for centuries. Sewage-contaminated flood water has long entered residents' homes, yards and parks.
The following information was provided by Anderson:
FLOODING & COMMUNITY HEALTH ISSUES ARE IGNORED

The MWRA has been ignoring the health impacts that the CSOs have on Alewife residents when it floods.
There are an estimated 5,000 residents in the Alewife's 100-year flood plain.
Hazardous sewage-contaminated flood water enters the homes, yards, and par ks of area residents during major storms.
Untreated sewage contains pathogens including Hepatitis, Salmonella, Covid-19, cholera, dysentery, bad headaches, bloody diarrhea, abdominal cramps, fever, nausea, vomiting and dehydration.
The community living in the 100-year flood plain is the area's most vulnerable and diverse population. This population is also the most susceptible to bad health outcomes from exposure to pathogens in the untreated sewage flood water. This is an Environmental Justice issue.
Because the Alewife is naturally flood prone, the residents who live near the Alewife CSOs are disproportionately affectedby these particular CSOs in the MWRA's system. Therefore, we must have a plan to end all Alewife sewage pollution.
SEWAGE POLLUTION IS WORSE THAN STREET WATER RUNOFF / STORMWATER

The MWRA believes that the CSO sewage pollution is OK because the street water runoff / stormwater in the brook is not clean.
We are obviously way more concerned about the much worse health impacts of exposure to untreated sewage than we are to street water / stormwater runoff. But, let's end the sewage pollution and tackle stormwater water quality at the same time, through a new CSO plan that includes green and grey infrastructure.
Arlington has been investing and continues to invest in improving its stormwater through the work of its environmental-award-winning engineer, Wayne Chouinard, and its MS4 program. Other municipalities along Alewife Brook are doing so as well.
THE ALEWIFE NEEDS A NEW CSO PLAN THAT ENDS SEWAGE POLLUTION IN THE FACE OF CLIMATE CHANGE

In six weeks, the MWRA, Somerville, and Cambridge will have to submit new CSO Long-Term Control Plan (LTCP) plans. The MWRA's old CSO plan ignored Climate Change effects.
The first CSO plan eliminated half of the Alewife CSOs. The new plan should eliminate the other half, fully eliminating Alewife sewage pollution.
Cambridge got a beautifully constructed wetlands park on state land which cleans their stormwater and reduces flooding. Somerville and Arlington should have the same thing. We want to see stormwater improvements through green and grey infrastructure in a new Long-Term Control Plan!
The original CSO plan is over 20 years old and ignored climate change. A new plan must take into consideration the changes in precipitation due to global warming.
The MWRA's Alewife CSO (MWR003) discharged 20 million gallons of sewage water in 2021. It needs to be eliminated by installing a pumping station. Cambridge and Somerville CSOs need full sewer separation and green and gray infrastructure to clean the storm water and reduce flooding.
Climate Change will lead to an increase in CSO activations and even more sewage pollution. Therefore, all Alewife CSOs must be eliminated.
Meanwhile, consider ...
The latest Massachusetts Water Resource Authority's CSO assessment, gives Somerville's CSO a failing grade. Read an account from Save the Alewife >>
What is a CSO anyway?
Read an explainer from Save the Alewife >>
---
---
This viewpoint, from Save the Alewife, was published Monday, Feb. 14, 2022, and updated June 28.
Related Posts
Comments
Existing WET Neighborhood: Dorothy Rd., Littlejohn & Mott sts.
The Thorndike Place apartment and pavement construction will re-direct natural underground aquifers and given all the current and additional future surface water accumulations during storms, I'm terribly worried that our neighborhood, especially those abutters to Thorndike Place (Dorothy Road, Littlejohn Street, Mott Street, Edith, Burch, Parker, and Margaret Streets) will suffer greatly if sewage contaminates those aquifers and seeps into our already "WET" neighborhood! It is not uncommon to see water pump hoses stretched out of basements of the homes on those streets during rain events.
The Thorndike Place apartment and pavement construction will re-direct natural underground aquifers and given all the current and additional future surface water accumulations during storms, I'm terribly worried that our neighborhood, especially those abutters to Thorndike Place (Dorothy Road, Littlejohn Street, Mott Street, Edith, Burch, Parker, and Margaret Streets) will suffer greatly if sewage contaminates those aquifers and seeps into our already "WET" neighborhood! It is not uncommon to see water pump hoses stretched out of basements of the homes on those streets during rain events.
By accepting you will be accessing a service provided by a third-party external to https://www.yourarlington.com/
YOUR VIEW: Opinions: Murals politics, Town Day, Medford St., AFD, ACMi, poetry, Mugar, Alewife
Your Businesses
This week the Arlington Chamber of Commerce plans to present "Finance Essentials for Small…
Maxima Gift Center, 212 Mass. Ave., East Arlington. Maxima Gift Center, a fixture in Capitol Square…
Your People
Watch 'Pony Boys' on Monday, Oct. 3 (changed from Sept. 27), a New York Times' Op-Doc Tony and Jeff Whittemore head for Montreal. / 1967 family photo UPDATED Sept. 26: Spy Pond Productions of Arlington has announced that the film directed by Eric Stange has been acquired by The New York Times…
Sue and Jeff Thompson face trials, keep smiling. UPDATED Oct. 1: On July 19 it was one year since Jeff Thompson was diagnosed with ALS, and during that time his condition has worsened. But he and his wife, Sue, have learned some important lessons: Be prepared before the next thing happens so you're…
Housing Authority
Report released six months after records request. UPDATED July 28: The Chestnut Manor fire…
Hauser electrical panel. / Melanie Gilbert photo 'We're grateful to the CPA and Town Meeting.'--…
FACEBOOK BOX: To see all images, click the PHOTOS link just below