Media partner


UPDATED, Sept. 5: See the latest crop of artistically reinvented chairs created for the 2021 version of Chairful Where You Sit, sponsored by the Arlington Commission for Arts and Culture, (informally known as ArtsArlington). More than 30 creatives from Arlington, Boston, Somerville, Cape Cod and Maine, have contributed their efforts to help raise funds for Arlington's vibrant public art programming.
The auction ends at 9 p.m. Subnday, Sept. 5. For more info, click here >>
The chairs were viewable in person on Saturday, Aug. 21, from noon to 5, on the grounds of the Jason Russell House, 7 Jason St., near Arlington Center. View online here >>
Free live music, a chance to vote for your favorite chair, and more will be on offer to the public. Chairs can be purchased through an online auction beginning at Aug. 23 and ending at Sept. 5.
12:30 - 1:45pm: Live music: District Five Jazz Band

2 p.m.: Artist talk: Leslie Wilcox, creator of "Arboreal Attire"Arboreal Attire" -- one of Arlington's Public Art installations. Discover how Leslie gets inspiration from historic fashions and from the character of individual trees when making the large-scale steel mesh sculptures. See more below.

3:30 - 4:45 p.m.: Live music: Morningside Blues Ensemble

4:45 p.m.: Announcement: The three People's Choice Award winners will be announced.
Since 2012, this event has saved more than 400 chairs from the trash and raised significant funds to support our public art projects. New for 2021we're accepting artistically revamped small furniture items like side tables in addition to chairs.
This year's theme is Nurture Nature. This email address is being protected from spambots. You need JavaScript enabled to view it. if you'd like to artfully convert a discarded piece of furniture into a beautiful item for auction to support the arts.
Have a sneak peak at the chairs:
At 2 p.m. Saturday, Aug. 21, join us for a free talk, tour, and Q&A with artist Leslie Wilcox, creator of "Arboreal Attire," a public art installation of six whimsical "garments" on the grounds of the Jason Russell House.
Hear how she gets inspiration from historic fashions and the character of individual trees when making her large-scale steel mesh sculpture. Wrapped around majestic trees, her sculptural "garments" summon the spirits of the family that inhabited this historic home for generations while paying tribute to the spirits of nature.
Learn how she "tailors" and wrangles tough stainless steel with pliers and staples to evoke period styles and achieve an ephemeral appearance.
Poet Jessie Brown will join to read her original poem inspired by Arboreal Attire and the evocative Jason Russell House site, a family home for generations.
Arts commission, Chamber collaborate with businesses to spruce up town
As a vital part of the Arlington community, the Arlington Commission for Arts and Culture has launched of Spruce Up, Arlington: Get Your Sparkle On!, a spring revitalization campaign in collaboration with the Arlington Chamber of Commerce.
Following the unprecedented year behind us, this initiative aims to reconnect, restore, and revitalize the town by sparking economic vitality through the arts. The ACAC and the Chamber are looking for ways to create opportunities for local artists, beautify Arlington's business districts and help support a thriving main street.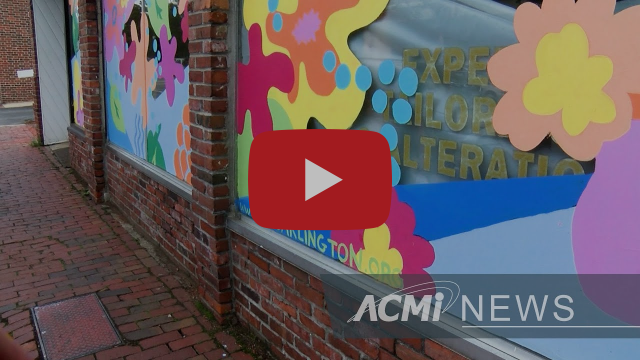 Check out this video produced by ACMi and hosted by Sophia Titus about a new collaboration between the Chamber of Commerce and the Arlington Commission for Arts and Culture (ACAC) aims to sparkle up the town and reinvigorate our public spaces, beautifying our streets and business districts.
If you are interested in being a performer, or an artist, or if you're a business wanting to host performances or events as part of this initiative, please contact us This email address is being protected from spambots. You need JavaScript enabled to view it.>>
Artist at Menotomy Rocks
ACAC Artist-in-Residence Nilou Moochhala, at left, met the public at her newly installed public art project in Menotomy Rocks Park on Thursday, June 17, 5 to 7 p.m., or Saturday and Sunday, June 19 and 20, from 10 a.m. to noon.
The installation combines drawings Moochhala created during a daily meditative practice begun during lockdown with new work developed in response to interviews with diverse Arlingtonians: town leaders, front-line workers, medical professionals, local business owners, and inventors/entrepreneurs.
The artist talked to the new parents of a "pandemic baby," middle school and college students, working parents, and retired seniors. Some of the stories she heard were heart-breaking. Others were inspiring accounts of public service, resourcefulness, and resiliency.
COMMUNITY INPUT NEEDED FOR FUNDING CULTURAL PROGRAMS

As part of our process for distributing cultural funding provided by the statewide Mass Cultural Council, the ACAC Grants Committee regularly seeks community input to ensure that grants and programs benefit our community's unique needs and interests to the greatest extent possible. To this end, we invite all of our neighbors to share your opinions and priorities in regards to cultural programs and funding. Please share your views anonymously in our brief 10-question survey (less than 5 minutes). Thank you! Take the survey HERE.
SCULPTURE + ARCHITECTURE WALKING TOUR
Cyrus Dallin's Arlington Center
Explore the wonderful built environment that makes Arlington Center so unique during this one hour guided walking tour. Experience the masterful public works created by the celebrated American sculptor, Cyrus Dallin, for his adopted hometown. Learn the stories behind notable memorials and historic buildings, as well as some fun facts about Arlington's Revolutionary War history. Before or after the tour, plan to visit one of the many amazing restaurants in Arlington Center!
The tour starts in front of the Cyrus Dallin Art Museum at 611 Mass. Ave. in Arlington. Please wear a face covering. Metered parking available in the lot behind the building. Suggested donation: $10, $5 for members and students, free for children 13 and under.
DETAILS: Thursdays, Aug. 26, and Sept. 16. Registration links will be posted 3 weeks before the event HERE
Bikeway haiku project restored
The ArtsArlington.org website has archived all the poems from the 2018 Bikeway Haiku project. Click here >>
The previous web-hosting service shut down, but the group has rebuilt the content and hope you will enjoy looking through it. Your poem(s) should be there, arranged alphabetically by first name (or under anonymous, if that was your request). Let me know if you see any typos or other issues with your poem and I will get it corrected.
CALL TO ARTISTS: TRANSFORM ORANGE PARKLET BARRIERS
The Town of Arlington has been setting up "parklets" – outdoor seating areas located in parking spots protected from traffic by orange plastic barriers. To make these areas more inviting and to spruce up public spaces with vibrant art, ACAC seeks a variety of proposals from artists to transform barriers with an application of colorful adhesive vinyl, cut into shapes or patterns.
The stipend is $250 for a 6-foot barrier; ACAC will provide free scrap vinyl for artists to cut by hand. You can view examples of a parklet transformed by Artist Adria Arch on our Instagram here >> For more details, go here >>
CALL TO ARTISTS: LIVE ARTS PERFORMERS and ARTISTS WANTED!
The Arlington Commission for Arts and Culture has an opportunity for artists from across all performance and art forms to "take to the streets" in July and August 2021 to share their art as part of LIVE ARTS ARLINGTON.
Artists will activate a public dining parklet, via performance or demonstration, at an agreed upon date and time on a Friday, Saturday or Sunday. ACAC will provide advance promotion, signage, and a $100 stipend. Artists are encouraged to put out a "hat" to collect donations from the public.
ACAC SUPPORTS ARTS-RELATED BUSINESSES

Arlington-based arts-related businesses and organizations as well as individual arts instructors and performers are welcomed to submit a free directory listing on the Arts Arlington website and post arts-related events on our partner website Arts Boston to have them included on our town cultural calendar.
Have arts or cultural events you'd like to share with ArtsArlington?

Start here

to create a free account on ArtsBoston, share details of your organization or venue, and add your Arlington-based events and we'll post them to our calendar, too!
ArtsArlington.org
is a free public resource providing information about town-wide arts events, arts instruction, artist grants, arts exhibition spaces, and other resources. It is produced by
The Arlington Commission for Arts and Culture
, the official umbrella organization for all town-related arts and culture activities. The Commission consists of a core committee and four main standing subcommittees: Community Engagement, Marketing and Evaluation, Fundraising, and Grants.
We encourage anyone with skills in these areas to get involved!
Join us!
The Commission's responsibilities include actively advocating for public access to arts and culture, promoting Arlington as a regional destination for arts & culture programs, managing the Arlington Cultural District, seeking and distributing arts-related grants, and supporting a robust public art program for the Town.
Copyright © 2021 ArtsArlington, All rights reserved.
---
This news announcement was published Sunday, March 21, 2021, and updated Sept. 5.
Your Businesses
UPDATED Aug. 12: 13Forest Gallery, which reopened at 167A Mass. Ave. on May 21 after having been…
Derek Fleming smiles in 2019. UPDATED Aug. 8: Eleven and a half months after fire closed Thrive…
Your People
McHugh UPDATED Aug. 4: Susan Rachel McHugh, a cofounder of the Arlington Human Rights Commission in 1993 and its first chairwoman, died in June after a brief illness at age 66. Those who worked with her remembered her immediately after her June 20 passing. The Boston Globe published her obituary…
Julian Carpenter, Berklee drummer. / Liam Garcia photo Musician Julian Carpenter, a 2019 Arlington High School grad, aims to feel the beat of the big time as he is among the performers at the Lollapalooza Festival, four days of sounds in Chicago that runs from rap to electro pop and indie to…
Housing Authority
Hauser electrical panel. / Melanie Gilbert photo 'We're grateful to the CPA and Town Meeting.'--…
Atwood House on May 23, 2022. / Melanie Gilbert photo 'I'm reaching out to the state.'-- Jack Nagle…
FACEBOOK BOX: To see all images, click the PHOTOS link just below